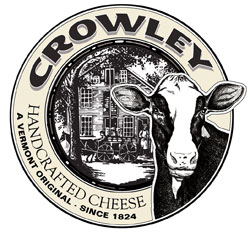 Pure.  Simple.  Delicious. Crowley Cheese has been handcrafted in the Green Mountains of Vermont since 1824, using the same sustainable methods. Crowley Cheese is all natural, with no additives or preservatives, made in the country's oldest continuously-operating cheese factory (in the National Historic Register). Our cheese is made entirely by hand, in small batches, using fresh, local, Vermont raw milk which makes it flavorful and distinctive.  It is carefully aged for quality and character and has been a favorite among generations of cheese-lovers.
Visitors are welcome to stop by and watch cheese being made at the historic factory and taste a delicious variety of aged samples. There is also a gift shop where visitors can purchase other excellent and unusual Vermont products and delicacies.  The factory is in Healdville, Vermont, which is about 10 minutes west of Ludlow (near Okemo Mountain).  We recommend calling first to confirm the cheesemaking schedule.
Crowley Cheese
A semi-hard, rinsed curd, raw cow's milk cheese that is creamier and moister than a typical cheddar. It is available in clothbound wheels and waxed bars, in different aged varieties and in different flavors, including the famous Muffaletta. Please check out our website for a list of currently available flavors and aged varieties.
For more information on where to purchase, click here.